As parents, it is understandable to want the best for our children. 
One of the ways we ensure the best for our kids is when we want to enroll them in a school where they can really thrive. But how do we know whether the potential school we choose to enroll our children is any good? How can we determine whether it is an environment conducive to the learning development of our kids? 
For starters, you need to ensure that they are in a safe and nurturing learning environment. Whether you are choosing from international schools in Manila or private schools elsewhere, determining what makes the school good is paramount. 
As it is, school buildings are purposefully built in such a way for students to thrive. In order to provide topnotch and exceptional education to students, these environments should inspire creativity and independence. Moreover, it should instill a love for learning in our children. Excellent schools are places of tutelage surrounded by a positive learning environment. 
WHAT IS A POSITIVE LEARNING ENVIRONMENT?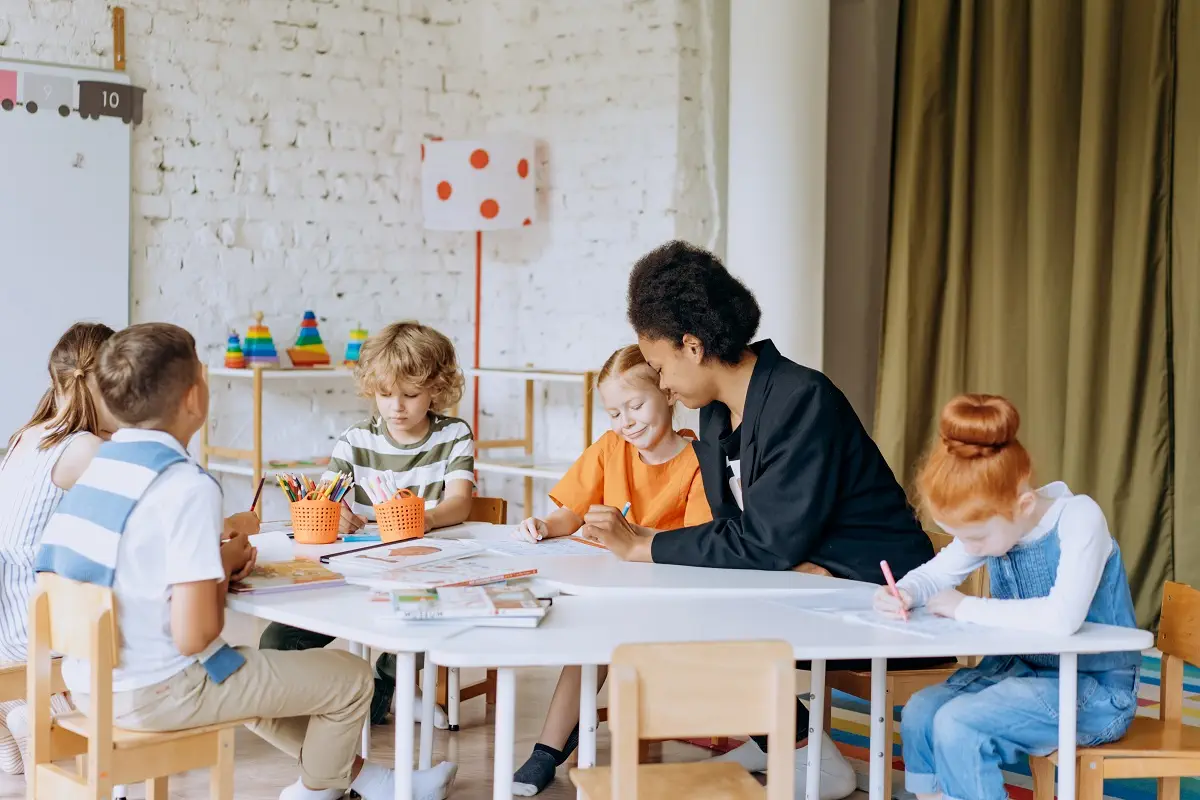 Essentially, a positive learning environment is a pivotal component of a skills-based health education classroom. It is created when educators value learning and participatory teaching. A positive learning environment creates trust and rapport among educators and their students. To achieve this, however, educators would need to establish trust that will result in true participation and engagement in learning. Finally, a positive learning environment is where students feel valued, safe, and supported. 
All that said, schools should be equipped with all the needed facilities required to support and nurture their students' intellectual, physical, and emotional development. In the same vein, schools should endeavor to continuously improve their environments in response to the need of their students and the latest research. 
Below are just some of the characteristics that define a positive, safe, and nurturing learning environment: 
1.) Flexibility, Openness, and Access to resources 
Flexibility, Openness, and ease of access to resources are three characteristics that make a space adaptable. These spaces often take the form of movable partition walls and open spaces—all of which can give students the freedom of choice in how and when they will learn. Let us examine each of these characteristics below: 
a.) Flexibility
Ideally, places for learning should be designed in such a way that both the students and educators should have the ability to combine two classes into one for team teaching. Similarly, they should be able to split a class into small groups and spread it over a wider area. It would also be helpful if they can combine various classes studying similar learning areas. 
School facilities that are flexible and adaptable allow teachers to choose how they wish their students to learn. Students would learn in a way that is most appropriate for them. In this way, students would not feel stuck and confined to their desks for the entirety of the day. 
b.) Openness 
Movable walls and flexible workspaces allow for strategic use of a common learning area. As a result, central teaching is made possible. In addition, common learning areas and flexible workspaces can give students access to what other classes are currently learning. Teaching and learning are not linear; it is dynamic in such a way that they can be complemented and enhanced. 
c.) access to resources
A positive learning area provides for good facilities while simultaneously allowing spaces for a myriad of activities. These activities can be spaces for reading and reflection, group work, project making, and presentations which both students and teachers can utilize. In addition, these areas should have all the resources students and educators can possibly need—whether it is wireless or wired technology. 
Beyond having a flexible and open learning area with easy access to resources, it is imperative that these learning environments should be kept clean to ensure students are motivated and focused. 
2.) A clear and shared focus
A successful school knows its focus and shares it with everyone. With a clear and shared focus, everyone in the school can work together toward a common end goal, making a school more effective and a positive learning environment. 
3.) Effective school leadership 
In a positive learning environment, effective school leadership is paramount. However, keep in mind that strong leadership is not only exclusive to the administration. Rather, positive learning environments should have good and effective leaders at all levels—from the principal, faculty, staff, all the way down to the students, and so on. 
4.) High levels of communication and collaboration 
It has been said that we can accomplish more as a team than we can accomplish all by ourselves. However, for collaboration to be effective, there must be productive communication among all the members. Schools that have the mentality of a team and work as one tend to have better and more positive learning environments. These are the schools that have good communication measures in place. Together, students and educators work to achieve optimal results and an end goal. 
5.) Curriculum and instruction materials are aligned with national standards 
Positive learning environments and high-performing schools use research-based strategies and materials. However, in order to be effective, these schools need to train their staff to understand national assessments and respond to the results appropriately. 
6.) Close monitoring of learning and teaching 
Educators who are able to monitor their students' progress closely can make the necessary and appropriate adjustments to ensure that their needs are adequately met. Schools with positive learning environments incorporate frequent monitoring and offer support to students who may need that extra help. 
7.) Supportive learning environment 
Apart from having a healthy and respectful school climate, schools with a positive learning environment offer personalized instructions as well as small-group interactions to increase student-to-teacher contact. In this way, each student's needs will be met and addressed. 
8.) Family and community involvement 
Lastly, successful schools with positive learning environments incorporate the village mentality of relying on family and community members to assist in the education of students. Learning should not only come from teachers but from other family and community members as well. Support from parents and guardians is key for a student's academic success. 
OTHER CHARACTERISTICS THAT DEFINE A POSITIVE LEARNING ENVIRONMENT: 
Apart from the qualities stated above, below are other identifying factors that can be found in a positive learning environment: 
1.) A feeling of safety and security 
Students who are in safe and nurturing learning spaces should be able to feel physically and emotionally safe. In addition, they should be able to see their learning environment as a place where they are free to express themselves and ideas without being judged. Essentially, positive learning spaces allow students to feel free to be themselves. 
2.) A feeling of being valued and respected 
Safe and nurturing learning areas should be spaces where students can feel valued and respected—regardless of their ability, gender, race, religion, and ethnicity. 
3.) A feeling of ownership 
A positive learning experience allows for an exchange of ideas between the students and the teacher. Beyond that, students should have ownership and input related to their class structure. They should also be able to voice out their expectations from their class. 
4.) A feeling of being challenged 
Students tend to perform better when they are feeling challenged. In this regard, positive learning environments allow students to feel challenged to achieve high expectations. Of course, a nurturing learning environment should provide all the support necessary from their school to meet these expectations.
5.) Having standards for behavior 
Positive, safe, and nurturing learning environments should have an established set of standards for behavior. These very same standards should be consistently and equitably enforced for all students. 
6.) Create multiple and varied opportunities for success 
For a positive learning environment to be effective, its class structure should provide multiple and varied opportunities for students to experience success. 
Amid overwhelming options nowadays, it may be a little challenging to choose the best school for your child. But you now have an idea of where to start with the list above. First, narrow down your options by looking up the school and researching their facilities and curriculum. From there, you can choose the best one that fits your child's needs. 
Keep in mind that maintaining a positive learning environment is a work in progress. It does not happen overnight, and various factors go into it. With that in mind, consider how your child perceives a safe and nurturing learning environment and how they can contribute to making it an even better place for learning.
Author's Note: This entry was optimized by the best SEO Services Agency in the Philippines – SEO Hacker